Living life for me
April 26, 2016
People say, in order to be happy with others, I need to be happy with myself. Well, it's not that I'm unhappy with myself, I'm a handsome, nice, intelligent, talented young individual, so what is there to be unhappy about? No. People who say that are just stupid and have problems caring about themselves. That has nothing to do with me. I need someone else. There is a void that only a person can fill.
Of course, you'll say, "Well, find something you like to do." Sadly, that does not work. I'm doing everything I can and I still feel that void. I'm entirely happy with myself. But it's not really me that needs to be happy. I need to be more than just me. My biggest fear in life is being alone. I am happy. I can spend every day by myself, playing the same damn video games over and over, watching the same damn movies over and over, going through the same damn existence over and over. I'll just put on my smile, because I'm happy with what I can do. And I'll look to my right and see my shadow there with me, but shed tears as the storm clouds form above. Because there is no light in this.
I am happy because of me... but that can only go so far. Before you know it, you're alone, staring at these four walls, accepting the tears that streak down your face. But you smile, because you're alive. I am happy I'm alive, but I can't live alone. I'm done living alone. I've done it all my life. There is no happy for me, because there is no me. I'm a hollow empty shell because that is what society has made me.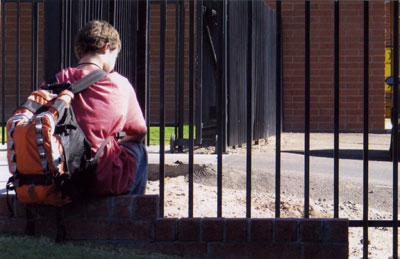 © Molly L., Phoenix, AZ