Dancing Into his Heart
March 29, 2013
She dances towards me on gentle tiptoe
Like a misty whisper, making me sway;
Mysterious eyes and smooth skin aglow,
Settling down in a graceful plié.

Electricity shoots, her hand to mine;
She spins quickly like a gold hurricane.
My feet, heavy bricks and her moves refined,
A swift and alluring, delicate frame.

Duet partners, but more I desire,
Not just choreographed, rehearsed passion.
Perfect, with a seductive half smile,
A terrible tease, yet, sweeter than sin.

Standing ovation, applause for my star,
But all I can do if watch from afar.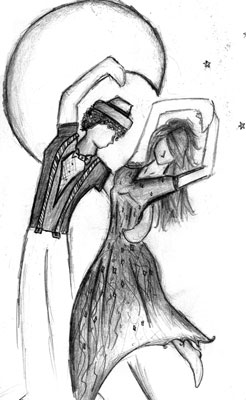 © Megan L., Everson, WA