Waiting...
August 18, 2018
Waiting... is a comedy that revolves around what life is like for a bunch of employees at a restaurant named Shenanigans. The entire movie takes place during a single day. During the day, a new employee is showed the ins and outs, the bad parts, the very few good parts, and what it's like to work at Shenanigans. A waiter, Dean, must decide what he wants to do with his life when he's confronted with the choice of becoming Assistant Manager or attempt to achieve something better. The same waiter showing the new employee the place, Monty, must figure out who he wants to be as he attempts to fight temptation with an underage employee.
Meanwhile, the cooks fool around and mess up food when they want, bus boys try to act thug-like, a waiter tries to overcome his problems going to the bathroom, and an angry waitress continues to lose her cool at the restaurant.
The movie is hilarious throughout and has tons of comical moments. Although parts of the movie are inappropriate for some, the movie is fun and entertaining throughout. The cast of the movie is pretty good, and it appears like the cast has a great time portraying their roles. The ending of the movie is arguably the best part, and ends the movie fairly well. After watching this movie, most people are probably not going to want to become waiters and waitresses. The movie depicts Shenanigans as one of the worst places to go over to and eat as well as the pranks and jokes that take place, and since that's the purpose, that's a good thing. Overall, the movie didn't win any awards and might be considered by some as a dumb comedy, Waiting... is a unique indie/comedy film that showcases what it's like to work in a restaurant in a fun manner.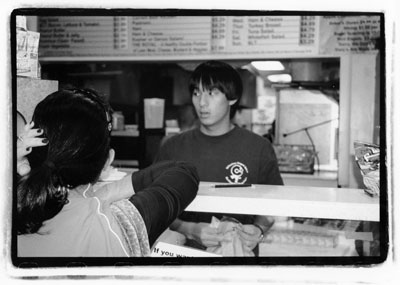 © Rachel D., Bethesda, MD