The Picture Frame
MAG
The old woman bent
her gnarled fingersover
the rail of the pier
to get a better view
of thesea.

She watched the waves
crash against theshore
tossing the
sand and shells
in a madfury.

Enchanted by the sea's
rage, the womanfound
this pier a
comforting place,
and she returnedoften.

This place was magical.
She stopped byevery
evening on the way to
her small seasidehome.

One evening,
she took a timid
step up onthe
rail to get
a better
view of the
sandbelow.

She noticed something
shiny, winking ather
as if she should
pick it up.

She climbed offthe
rail and down
the stairs tothe
beach.

When she found
the spot
where shehad
seen the light.

She picked it up and
found itto be
a small picture
frame.

It was apicture
of a small
boy with a familiar face.
He wasabout
seven or eight years old
with blonde hair
andblue eyes.
The odd thing
about the picture
was itappeared
that the small boy
was standing in
exactlythe same spot
that she was now standing in.
She openedthe frame and
out fell a note:

In a little boy'shandwriting was:

April 12, 1928
Dear Kara,
I missyou very much.
I am happy now, here at the shore.
I goto a nice school
and have good friends.
Here is apicture
of me at my special spot.
See, I am happy I
found a new special spot.
Good-bye for now.
I hopemy picture will not make you sad.
Love yourbrother,
Tommy
P.S. Tell Ralph I send a kiss

The woman's eyeswidened.
She let out a whisper of amazement.
The boy inthe photo seemed familiar.

Her name was Kara.
A longtime ago,
She owned a dog named Ralph.
At the time, shelived
with her brother Tommy.

That was before herparents
separated. Then Tommy
had to go away.
Howcould this be?
She was told Tommy was
just a figment ofher imagination,
her imaginary friend.

She held thepicture close to her heart.
She wasoverwhelmed.
Memories of Christmas long ago
cameflooding back.

She remembered how the
pine needlesmade the
house smell wonderful.
It smelled of
loveand joy.

That last Christmas
she remembered
herfather being there.

She paused from hermemories,
noticing a figure
moving toward her
alongthe shoreline.

Though her vision was poor,
thefigure of a small boy
began to takeshape.

"Kara, did you find a photo in
a smallpicture frame?" he called.
She realized in aninstant
he was the boy in the photo
- herbrother.

The old woman's eyes
filled with tearsshe
had been holding back
for sixty years
and said,"Our mother
told me you didn't
exist."

The shore melted away
and timeseemed to melt away.
The laughter of children
becamemixed
with the echoes of seagulls.

Off in thedistance,
a barking dog
joined the children
as theyheaded off into
the growing mist of the evening.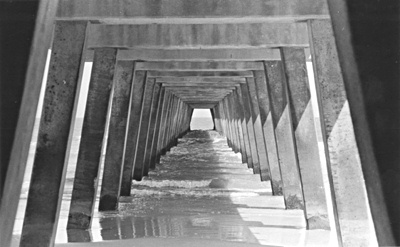 © Anonymous