Sparrows Song ~Prologue~
March 24, 2010
(Nikki)
It rained.

And rained…

And rained…

I could barely see where I was parking as my car came to a halt barely scraping the curb. I leaned back in my seat and sighed as hard as my chest allowed. I reached in the back seat and felt around for the umbrella that I had forgot to bring out of the house. Daddy warned me about rain but it had been sunny all day, I could kick myself right now.

"Damn."

I pulled my sweater around my stomach and opened my door stepping out into the pouring rain. In front of me stood a two story house that looked like it would cave in at any moment. Its cloudy blue paint was hanging on by a thread and the yard was infested with cups and other sources of trash. No one stood or sat on the porch so I figured that they all must be in the house. For a moment I had forgotten why I had come there in the first place. Daddy sent me on bounty hunter duty to manipulate my brother Anthony to come back home. He had been gone now for three days ever since he and daddy got in this big fight about the company he keeps. For daddy to be such a great lawyer he shouldn't be sending me on his bold missions.

A few women with barely any clothes on ran past the house with card board scraps on top of their heads arguing with one another. I walked up the first three steps tripping over the forth and stumbling over the last two.

"Damn."

I laughed at myself briefly happy that no one witnessed that then went to knock on the screen door. I pulled my hood from over my head and pulled my shoulder length curly hair over my shoulder. A few seconds later one of Anthony's mischievous friends opened the door to let me in.

"What you doing here?" Carl asked me pulling me into a bear hug. I frowned and punched him in the chest.

He directed me towards the living room where about ten other dudes were sitting in front of a big screen watching a football game. All of them were somewhat recognizable. I had been around them long enough to match faces with names though Anthony tried his best to keep his little sister a more than safe distance from this lifestyle.

"I just need to talk to Anthony Carl." I said opting out of having a seat. I didn't want to get too comfortable. Carl looked at his feet then back up to me.

"He's out right now, he went to go make a run." He looked around again.

"He'll be back, stop tripping." I sighed and leaned against the wall behind me.



Twenty minutes passed and Anthony still had not showed his face. Carl was in a deep conversation with two of the dudes from the couch before standing up and walking over to me.

"Aye I'll call you when Ant comes back; he must be handling something else." I lowered my eyes and touched Carl's shoulder.

"I really don't want to leave without him Carl." Carl avoided eye contact with me.

"Aight but I gotta go make some runs." He looked defeated though he could've easily convinced me to leave after about five minutes. "Don't get yourself into any trouble girl." I nodded my head and gave him a bear hug. "What was that for?" He asked with a slight chuckle.

"Just in case I get tired of waiting and I don't see you for a while." He smiled at me.

"Call me if any thing goes down." I bit my lower lip smiling up at him. His long dreads caressed his shoulders and his light gray eyes somewhat twinkled.


I found myself waiting on the outside porch when the rain calmed down. Large mud puddles become the ground outside of the house and the street was back up to its normal ways. Even pouring rain couldn't stop money flow around here. My stomach started to grumble so I found myself in the drivers seat of my car pulling up to the nearest Wendy's I would find.


When I got back there were about ten cars parked outside of the house I had just left. There were a few men on the front porch; no of them were Anthony and none of them were Carl. I put my car back into park and got out of the car biting my lip against he chilling weather. I would definitely be under it for a little while.

I got the first step when one of the men stepped up to stop me.

"You can't come up in here lil mama." That was the first time I ever saw him. Standing there in front of me with his hair pulled back into a low pony tail. His eyes penetrated through me giving me goose bumps and they were as cold as ice. I went to speak when the door opened from behind him. Anthony walked out of the house with a look that could kill an army.

"What the f*** you doing here Nikki?"

"Looking for you." I barked back as he grabbed my arm pulling me towards my car.

"Go home." His words smoothed over when we reached my car. I knew he just didn't want me around here and it made him angry as hell.

" I wouldn't be down here if dad wasn't hounding me about you coming back home." He looked frustrated. "I'll just call you later." I said below my breath. "I just want him to know that I tried." He looked down at me for a little while.



"Aye Ant, come on." Carl called to him form the front porch. I looked over Anthony's shoulder to Carl who gave me a light nod before going back into the house.

"I'm bout to roll Nikki and you need to follow suit." He wrapped his big burly arms around me and kissed my cheek.

"So you're not to gangster to show some affection to your little sis." I snickered rolling my eyes in defeat. He huffed and turned around to jog back towards the house.

I walked over to my car and pulled the door open looking up towards the porch where the guy with the curly pony tail was still watching me. His stare made me eager to drive off so I wasted no time.


Later That Night…


I woke from a cold sweat to the ring of my cell phone.

Nothing could have prepared me for what I was about to hear.

I was dreaming.

I had to be dreaming.



Daddy came bursting into my room.

Sirens wailed in the distance.

I wasn't dreaming.

Not this time.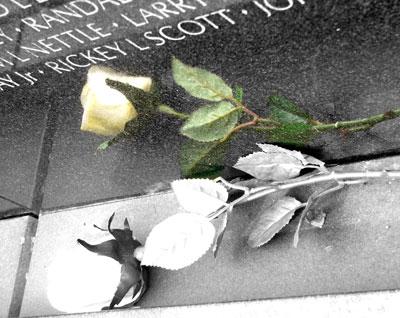 © Kimber E., Yorktown, VA