It Was Hurting Everyone
August 20, 2011
Friday was crazy. The weekend was full of whispers. Monday was silent.

The small school that sat in the center of the small town, right on Main Street, was quiet, no one knew what to say anymore. My first hour class was silent, even Ms. Eastman was quiet. She just wrote an assignment on the board, something in the textbook, but no one even opened their textbook. No one passed notes, no whispers or giggles. It was silent. My second hour was worse.
I entered the classroom and saw the single flower laying on the desk in front of me and I felt a lump fill my throat. She was really gone.
"Ok, class. I know Friday was a very crazy day and may have been hard for some of you, but we need to continue with Biology." She clapped her hands reasonlessly and sighed. "Read chapter 3, section 4." She sat down at her desk and her eyes rested on Maya's desk.
Maya Craig was in three of my classes, but I barely knew her. Her locker was exactly 14 away from mine, right next to the boys bathroom. I remember the day a group of foot ball players shoved into her and knocked her into the boys bathroom. They had laughed and the lunch detenion given to each one of them didn't even bother them. Maya hadn't showed any emotion, but I knew it upset her. People made fun of her, and she took it all in, and never put anything out. I guess that just builds up, and when she let it out, she really let it out. That happened last Friday, in the girls bathroom.
Maya Craig had long medium brown hair that she normally wore in a braid right down her back. Her eyes were dark, as far as I could tell, and there was nothing else really extrodianry about her.

The day passed slowly and I knew everyone was thinking about Maya, including me. I was still in shock about what had happened. In the hallway before lunch, my best friend, Cynthia, looked nervous, her big eyes full of worry.
"Christa! I really have to go to the bathroom, but I'm to afraid to go in there." She glanced at the bathroom as we passed it on our way towards the commans.
"They cleaned it all up, I'm pretty sure." I resassured her, my eyes lingering on the door. "I'll go with you." I felt the urge to go in there.
"Ok, but I still don't want to." Cynthia followed me slowly to the bathroom and I pushed the door open. We stepped inside and the door swung silently shut behind us. I passed the three small stalls and stood in front of the large handicap one. It was slightly ajar and I felt anxiety build up in me. I pushed the door quickly and the empty stall revealed nothing of the horror event that had taken in place in here three days ago, nothing but the strong stench of bleach.
"Oh. goodness." Cynthia covered her nose and shook her head. "I don't have to go anymore," and with that she hurried out of the bathroom. I glanced around one last time and followed Cynthia out.

Me and Cynthia sat in the back of my mom's car as she drove away from the school.
"How was school?" She asked, turning off of Main Street.
"It was ok, really quiet." I replied, Cynthia just examined her black fingernails.
"I feel so bad about what happened to Maya." She blurted suddenly and my mother just nodded. The rest of the car ride was silent and when we arrived to my house my mother told us she wanted to run some errands.
"You guys can make a snack inside." She called to us out the window as she pulled back out of the driveway. We both waved and went into the ranch style house.
"I can't believe Maya killed herself." I mumbled as I opened the fridge, looking for anything to eat.
"I can't believe she did it at school." Cynthia sat down at the small breakfast bar.
"I feel so bad, like there is something I could have done, and I didn't." I shut the fridge and turned to look at her. Cynthia covered her face.
"Stop talking about it! Your going to make me cry, again!" Cynthia had started crying after we left the bathroom at school and I had stood with her at her locker as she tried to control herself.
I walked around the counter and patted her back and wondered why people at school pushed Maya to suicide. It was not just hurting Maya, it was hurting everyone.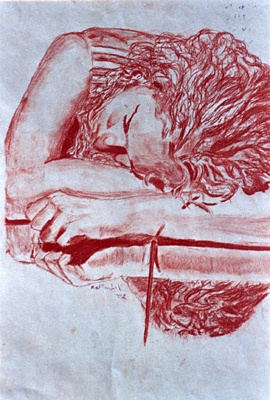 © Mark S., Kannapolis, NC