The Fence
February 20, 2013
Some days are grey. It might be the rain, or the fog, or maybe it's the clouds. It doesn't really matter, though, because the day is gloomy. It's days like this that are perfect for remembering, for nostalgia, for pulling out old pictures or for flipping through that old diary from middle school.
It's days like this that I remember that old fence. The first time I saw it, it was a shining white, brighter than the clouds in the summertime. Last time I saw it, just a few years ago, all the posts were crooked and the boards were rotted and grey, even though the grass was just as tall, the sky was just as wide, and the lake was just as inviting.
I used to sit up on that fence for hours with my best friend, Becky. We'd sit and talk about anything and everything, each afternoon for the whole summer. The rolling hills would stretch on for miles, the golden sunsets would glow in the summer sky, and the forest would loom on the other side.
The grownups always used to tell us that the fence wasn't built to keep strangers out, but to keep us kids in. There was something about the way they used to warn us to stay inside. It was as if the world outside of that fence was taboo, a bit like kissing a boy. It just wasn't something that Becky or I would ever be allowed to do.
But, when I was fourteen, I kissed a boy for the first time. That's when everything changed; I learned that the adults didn't have the answers to all the questions anymore. When I went to my grandparents' that summer and saw Becky, I knew she had learned, too. It was late that summer - I think it was in August - that Becky said we should jump the fence. She wanted to see the forest.
We almost did it. I don't remember what stopped us, but we just sat on that fence instead, talking about friends and family and boys and kisses.
The next summer, we sat on that fence and talked about heartbreak. It was August again when Becky told me she wanted to go over to the other side of the fence. Not like the year before, when we had chickened out, but for real.
So, we did.
I wish I could remember exactly what was different about that side of the fence. It didn't feel as safe or as warm as our side did, but there was something else about it, something almost sinister. But we were over, and we were going into the forest, and we'd be back before supper.
And that was the night that Becky died.
I remember her screaming, and I remember that man. I don't remember how it happened, but I ran like hell to get out of that forest. I always thought it would be her scream that would live with me, but it wasn't. It was the sudden silence that choked off her voice as I sprinted back to the fence; that's what has always haunted me.
For the first time, that fence wasn't safe, it wasn't warm. It was just an obstacle. I climbed over as fast as I could, and didn't stop until I was inside my grandparents' house, collapsed on the living room floor. I didn't even cry until someone asked what happened.
They never found Becky's body, but they found the blood. Too much blood. I don't remember the funeral, but I remember lots of lonely summers and sleepless nights. It was nearly thirty years before I went back, and saw that old fence falling apart.
All I could do was smile, because all the best things in my life these days are grey. The rotting fence, the stormy days for remembering, the monochrome pictures of Becky and me, and that little granite monument that stands as a proud tribute to Becky and the fourteen summers we spent together on that fence.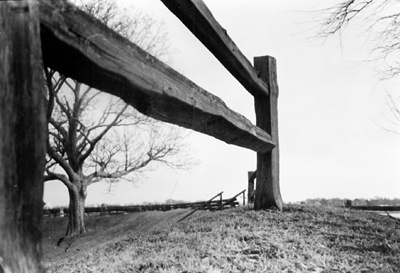 © Jessica H., Marblehead, MA