Turn Right
May 11, 2010
It's always the same thing. Wake up, survive, go back to sleep. That's all life seems to be anymore, one never ending routine. A continuous loop of left turns. Like all I am is a race car on the perpetual racetrack of life.
I never used to be this depressing, but then again I was never a friendless outsider before. I used to be the Queen Bee, the leader of not only my group but the whole school. The one fateful day, I was dethroned just like that.
I was walking up the stairs to by boyfriend's room, planning on surprising him for our anniversary. Little did I know I'd be the one in for a surprise when I saw what was on the other side of the door. I still cringe at the thought of what I saw the moment my world came crashing down, like it was built on pillars of sand. I didn't know it then, but what I saw would start a series of unfortunate events that would lead to my social demise. I lost everything, my boyfriend, my friends, but most importantly, my power.
Since then, I try to go about my daily life as painlessly as possible. I never look up when I walk down the halls. Mainly to avoid the looks of pity from those who were once my closest allies and humble followers in the higharchy that is high school.
I eat alone, under the protected shade of a Weeping Willow in the far cornet of the school grounds, far enough out of the way to avoid stares.
Today at lunch, I walked out to my tree. Planning on eating my lunch under it's shielding branches as usual. When I reached my tree, rested against the opposite side from where I usually sit, was a boy. He was leaning against the strong trunk of the ancient willow with a guitar in hand, softly singing to himself.
"I know you prefer sitting out here alone, but I was hoping you could cope with my disruptive presence long enough to tell me your story." he said still strumming the beautiful melody.
I was shocked, I'd never seen this boy before, how did he know about me, or my story?
"I've been going to this school for 3 days and every day I see you out here all alone and I wonder why." he answered as if he could read my thoughts like a book.
I sat down beside him and told him my story. Every detail leading to me sitting there beside him, under the guarding, hanging branches of the old Weeping Willow.
The whole time he absentmindedly strummed the melody from before and when I finished my tragic tale, he began to sing again.
"Turn right, into my arms, I'll keep you safe from harm…" his lyrics were barely audible, but they were beautifully sung.
"I'm Taylor." he said leaning back against the tree.
"I'm Liz." I said in response.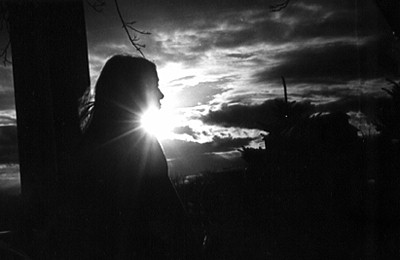 © Elizabeth G., Marblehead, MA