Somewhere Safe--Part 4
March 18, 2011
The noise was deafening. I had an overwhelming urge to cover my ears. I stepped back in the powerfulness of the little pistol in my quivering hands. The night was pitch black now, but maybe that was because my eyes were clamped shut to keep out the world. "Oh God." I said to anyone, to no one." What have I done?" My eyes ached to open out of curiosity but pure willpower kept them shut.
I shot him. It made my fingers tingle with the sudden freeness that raced through my veins. I wanted to smile at the thought but some part of my heart told me that I still loved him; no matter what had happened tonight. A firm grasp clipped me in the shoulder and for a terrifying moment I thought it was Devin. But…He's dead. I opened my eyes.
There he was. It wasn't over. I missed. He launched himself at me, whacking me in a desperate need to get the gun. I screamed thrashing him in determination that I would not be the victim anymore. I could feel pain unveiling itself in an ugly purplish blue color that I knew so well. The gun was still in my possession and I felt a sense of self pride in that. Tightening my grip, I understood that this dangerous thing was holding every delicate piece of me that I had left together.
Suddenly Devin was yanking it out my grasp with a powerful force.
"NO!" I screamed it, with everything I had.
Before I even realized what had happened, a firecracker boomed.
Devin stopped and stared at me with vacant eyes before flopping over on the white blanket of fresh snow.
I raced to him, dropping the gun like it was poison, and saw a red liquid gushing out of his upper chest.
Bile raced up my throat at the sight but instead of getting sick, I ran.
My father told me once when I attempted to run away from home with my ear pierced, high ego boyfriend that running away from your problems doesn't do any good. But that's what I'm doing now. Running.
The wind slapped my hair across my face, the chill nipped away at the water running down my cheeks and my heart beat an erratic rhythm in my chest. The last time I ran was when I had gathered enough money for a bus ticket to Chicago to escape the beating and cruel life of our little dream house. I ran in the snow that day until my feet were weary and numb and was forced to call Devin to pick me up. Needless to say, my cheeks, arms, legs, and stomach all had a gathering with Devin's hand and knee.
I reached town in a matter of minutes. The lamps that lined the street made the snow a perfect pyramid in the dark. Knowing this town by heart I raced across the cracked blacktop and sprinted up the steps of the Blue Bird Coffee House. The lights weren't on but that wasn't surprising at this hour.
"HELP ME!" I shrieked, pounding the glass so hard I felt the glass shift under my desperation.
No one answered.
I sat down on the steps and looked up at the white confetti falling to the ground.
"Please, God." I prayed." Please let someone hear me."
I waited for anyone so turn the corner but there wasn't any prince or a knight in shining armor waiting to rescue me. Just my reflection in the cracked glass.
"Kathrin?"
I turned so fast that stars appeared and dizziness made my world blurry. Mr. Clark was staring at me with a box full of tools and at the moment I was grateful to be in this incredibly small town where everyone knew everyone.
"Joe." My voice wavered surrendering my weaknesses and suddenly the world tilted.
Joe held me up and I read a look of horror on his face.
"Oh my God. Kathrin-"
"I shot him." I words tumbled out faster than I expected them to. "I shot Devin. I was just so scared, Joe. Gavin was trying to help me but he was hit too."
"Kathrin, you're bleeding." He acted as if he hadn't heard a single word I'd said.
"Listen Joe! " I coughed out the last word, tears soaking up my face. "Devin and Gavin are hurt-"
"George! Get over here!"
A man jogged over to my right side and repeated the words that Joe had said earlier.
"Call 911."
The world was fading in and out faster and faster I couldn't really remember what happened.
"Is someone hurt, Joe?"
He turned back to me and wiped a strand of hair out of my face. "You are Kathrin."
"Did I fall?"
"Can you tell me that?"
I heard the ambulance's sirens ringing through the silence, notifying everyone that rescue was on the way. "Gavin. Devin-"
"Are going to be fine. "
"Do you promise, Joe?"
He looked at me with sad brown eyes not answering in words.
The world turned a beautiful plain black color reminding me that there was always dreamland to go to. Always a pit to fall into without worrying about if you'll feel the pain of the fall because you'll never make it to the bottom. But if you were lucky you could stay there. Forever.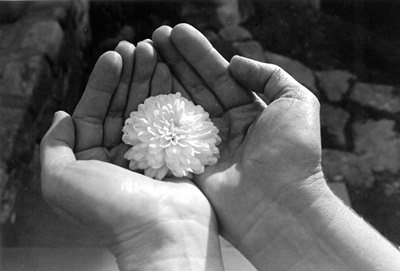 © Beth S., Marblehead, MA