Forest of Death
MAG
June 4, 2012
It had been four days since we last saw her.
The police were questioning my parents, making sure that they weren't the reason for her disappearance. I watched their conversation from the staircase, in the same spot my sister had often sat. I never understood why this was her favorite spot, but sitting here now, I could see everything. I could see the kitchen where my parents were sitting with the strangers. I could see the livingroom that once was filled with a perfect family. From here I could view everything, as if I was God and this house was my world.

In the distance, a faint mumble slowly became a sorrowful cry. It was the cry of a mother who knew that she had lost one of her children, a stranger sound than I had imagined it would be. I wished that I could comfort her, make her feel better and also maybe me, but I knew that nothing I did would make her any less upset. My twin sister was the only one who could calm my mother. Everyone cared so deeply about her. Even me.

Everything was different than I thought it would be. I left the house, slowly closing the door, giving my parents the peace that they deserved, and hoping that they wouldn't notice I was leaving. It wouldn't help to have them worry about me on top of their troubles. As soon as I stepped outside, the winter breeze wrapped itself around me and began pulling me into the forest, letting me know that I was now alone.

The wind carried me to a familiar pathway. One where my sister had followed me, to play a game. The soft cries of a trapped soul still lingered. I turned to see if it was me hearing things, and it was. Like always. Never did I think that the blood-curdling scream would stay with me. I always assumed that as the days passed, I would forget, but the memory repeated in my head, as though I was cursed to relive that day again and again.

The moon lit up the sky as it had the night she disappeared. The fractured shine gleamed through the empty branches, illuminating bits and pieces of the forest path. My sister and I had taken this path many times. The last time we walked it together was the day I decided to play a game. The moon was making me look and remember. Letting me know that it was there that night, and it saw. It knew the truth.

It was the same moonlight that loved my sister, enhancing her beauty. Being identical twins was nothing; somehow she was more beautiful than I could ever be. I knew that having the same face meant nothing. Something made her glow, more than I could ever imagine for myself. Was it her personality? What was I missing?

Thoughts like that made me question Why her?

The forest surrounded me, whispering the events it had witnessed. I continued to follow the wind; the trees still wore scratch marks. She had clawed her nails into them as though they could save her. They treated her as I had, giving her a false sense of protection, then doing nothing but watch when she was out of reach.

A fast and rhythmic beat slowly calmed down and suddenly stopped by my own hands, here in this forest. The game that I would play always ended this way. I knew she was unaware of this. We played games together in this forest, but she never played one like this.

The look in her eyes, moments before she was gone, was scarred within me. They held mixed emotions. The last feelings she experienced – fear, sorrow, regret? What were her last thoughts? Were they about me? Our family? Is that how I would look if she was watching me take my final breaths?

The wind brought me back to this part of the forest, making me take a path filled with guilt and memories. It brought me to the place I had last seen her alive. In the distance, where the fog consumed the trees, lay the part of the forest where we dared not go. She was always scared to pass this point, as if she knew there was a presence beyond it. As though she knew that this part of the forest would be the place she took her final breath.

I looked at the scene around me. The trees stood tall, judging me. Questioning me.

"Why her?"

The trees were dressed with guilt. Bodies of the past hung from branches with gowns that sighed with the wind. I displayed these decorations here to remind me. Each carried a story of her own. They all looked peaceful, as though sleeping, dreaming of a place far away, a world of peace. Each child followed me here to play my game, and each now carried a mark on her throat that proved she lost.

My sister, one whom I loved, was now part of my collection. Forever to be kept in this forest of death where her beauty would last. Even with no life in her, she somehow kept her beauty. I left a toy to keep her company. She always preferred toys over people. And I hoped she would forgive me for never being there.

A faint voice reached me from afar. It was my mother, calling for my sister. Little did she know that the child she was crying for earlier was alive, while the daughter she adored and thought was still with her was dead.

It was late, and the moon was in mid-sky. Midnight. The police must have finished questioning her. Her voice still sounded upset, I needed to go back and comfort her.

My poor mother would never know the truth.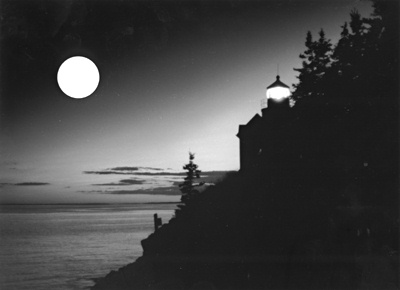 © Steve S., Marblehead, MA