A Sense of Belonging
December 15, 2009
Educator is defined by the Merriam Webster Dictionary as one skilled in teaching. But I always thought it deserved a more throe definition, one that truly encases all that make up a teacher. Such as the love, the determination, the selflessness and the strength it takes to educate and encourage. Not to mention the task of filling the world with its future politicians, writers, actors, reporters, scholars and parents.
Amongst the hundred and twelve teachers that are employed at Cleburne High School only one has managed to influence and inspire so many students with her teachings, her wisdom and her down to earth sense of style. She fascinates every student who is lucky enough to have her, and I know this because she is constantly being referred, referenced and remembered as a very amazing teacher. But more importantly because she changed my life, she appeals to me.
I entered high school, young and shy, easily brushed off to the sidelines and as a student who hardly made the A-B Honor Roll I was beginning to hate school. Until upon entering my freshman English class, I heard the astounding sound of a woman teaching across the hall. Despite my intentions to duck into the class, I stood out in the hall and listened. She was talking about Shakespeare that I knew easily by the dialect, but it wasn't one I was familiar with. So I leaned in closer and from where I stood I couldn't see the teacher or even the other half of the room, all I could see was on long table filled with a handful of students who all looked identical. They were leaned forward, most with their chins resting in their palms, their eyes almost glossed over as they stared intently, almost peacefully up to the woman's voice. And I knew that was where I wanted to be, in that classroom, looking up in awe to that teacher; who ever she was.
And though I'd been too shy to walk in and find out, or ask around it was two years later that I found out when I walked into my Junior English Honors class and heard a voice from the past as she began to talk about Erik Larson. And I felt every stress I'd had about starting junior year melt away at the sound of her voice and I eased into the world of literature. And then somewhere within the discomfiture of high school, I'd managed to find a sense relief within a room filled with inviting movie posters, and brilliantly colorful quotes that hung from the ceiling, as inspiration to all the gifted students that lay beneath them. But mainly I found a sense of belonging in the Mrs. Bell's wisdom, of her strongly worded speeches, of her powerful explanations. I knew that this is where I was suppose to be, I was meant to have this teacher, meant to feel connected to her, and meant to purse the same goals and dreams she had, that would lead me to her role, as an Educator. Wait that word still sounds wrong.
And now that I've really had time to think about it, I believe in place of educator, mentor is a better term; it is defined by the Merriam Webster Dictionary as a wise and trusted counselor and that is exactly what Mrs. Bell is, the wisest and most trusted counselor; and to if only her students in Cleburne High School, Educator of the Year.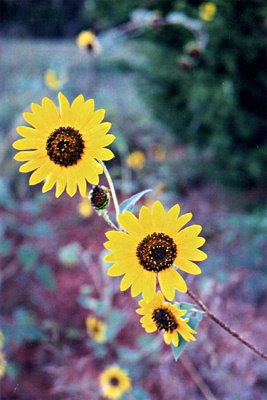 © Megan B., Luther, OK