My First Day At Public School
March 14, 2013
I stare at the yellow two story brick building. Paint is peeling and kids have drawn on the walls. I honestly don't know where else to look right now. There's about 200 kids, ages 5 to like maybe 15 milling around. I'm scared to death. Of everything.

Right now I'm just standing awkwardly, waiting for my uncle to come so we can talk to the director…or principal…thing. Most of these kids seem to be younger than me. Probably because all the older kids have classes in the mornings. I feel out of place with my new red blouse, best jeans, stupid blue shoes and huge glasses. Everyone here seems to be wearing white blouses. And the girls are mostly wearing skirts. Oops.

Oh, look, they're filing in. Just now they started standing in rows in front of the school and now they're filing in, class by class. There doesn't seem to be an order, just a few teachers yelling instructions. There's some benches down right of the school. I go to sit there, because I can't stand standing around anymore. I listen to some music to calm my nerves. Some people are staring at me. But now they're all gone. It's like a grave yard compared to what it was just now.

I'm still waiting. It's almost 2 o'clock. Where is my uncle?

It's after 2. My uncle finally got here, we're going to the principals er, director's office. Whoever it is that handles the money I think.
The principal, er director studies me the way I would study an interesting insect. Minus some people's disgust at seeing an insect perhaps. He is a middle aged man wearing a suit, several gold rings and I think a gold necklace. He has a stomach and a slightly red large face. The suit and the gold rings on his chubby fingers mark him as a successful, if overweight, person. My overall first impression of this guy isn't great though.

I'm asked to read something, and I do. I do ok. For a second-grader. But still, better than what my uncle expected from me. He didn't expect me to be able to read, much less write anything.

My uncle hands the principal, er director, or whatever a plastic bag with something that looks like a box of chocolates and an alcoholic beverage. Bribe? I dunno.

They try to get me to read something written in what is known in German as 'schreib schrift'. I'm not entirely sure of the word for that in English-it's when you write and all your letters form together so your pen doesn't really leave the page. Honestly, I suck at reading that kind of stuff unless it's my own handwriting, it doesn't matter what language.

The money-handler (as I shall call the principal, er director (or whatever he really is) from now on) calls in a teacher. Her impression on me is slightly better. She is wearing a blouse and a skirt, is also middle aged with a slight stomach. But she's not fat or chubby. She has stringy bangs and the rest of her hair is tied back in a pony tail. Sunglasses are perched on top of her head. Her name is Enkh-Tuya. I am going to be in her class. Oh, joy.

I am going to be in 8th grade, in her class, 8B. We're still discussing details. I don't like everything I'm hearing. Finally, the money-handler asks the teacher to take me to her classroom. They both look at me for a minute, as if not knowing what to expect from someone like me. Like I could be an asset or a drawback. Like I could be just a normal student who catches up eventually or a total idiot. I clench my fists underneath the table. I know what they're thinking. It's what everyone thinks who doesn't know me well. Stupid foreign girl.

Anyway, now the interview and assessment is over, and Enkh-Tuya bagsh (teacher) takes me to her classroom. She goes in first, to make an announcement, then calls me in to stand in front of the class.

I'm really scared at this point, but try not to show it. I mean, being scared of a bunch of little 13-year-olds is hardly courageous.
I'm asked to give my name and I do. I try to pick out faces from the crowd, but I can only memorize two. A boy and a girl. The girl looks at me with a strange expression on her face. OK, everyone kind of is. But she's…different. Until I know her name, I shall call her foxface (tribute to the Hunger Games). The boy is looking at me with an excited expression, talking to his neighbor. His face is covered in pre-mature indents and pimples. He seems to be somewhat taller than his other boy classmates. Until I know his name, I shall call him pimple boy. Sorry, boy. I'm sure you've done nothing to deserve this nickname.

Finally, I am allowed to leave that chamber of torture. I'm going to start school tomorrow-and tomorrow is Thursday. At least it's just 2 days before the weekend.
End.

Chapter 2. Uncle's Advice.
My uncle's name is Battaa. I call him Battaa ah (uncle; older brother; older male). I don't know how he feels about me entering school for the first time, but he seems happy that I can at least read and write like a second grader. On the drive to his house, he keeps giving me advice (see list). At his house his oldest daughter, Ariunaa and him give me clothes to try on. Personally, I don't find hand-me-downs or wearing hand-me-downs offensive. But I do find it offensive when they keep giving me advice on how to dress. Like I don't have a sense of fashion.

List of Advice:
On Clothing:
-You must wear a white blouse.
-You must wear (non-jeans) pants or a skirt.
-You must tie your hair back.
-You must always fold your clothing neatly.
-You must keep all your clothing neat always.
-You must always iron all your clothes.
-If you're cold, wear warm clothing.
-Here, wear these kate (converse) in warm weather.
-Here wear these ankle boots in cold, slushy weather.
-You are not allowed to wear makeup.

On Behavior:
-You have to listen to your teacher.
-You cannot wear earphones in class.
-You must always pay attention.
-You must always greet your teacher.
-You must be nice to your fellow students.
-You must respect your teacher.
-Guard your bag carefully. Your fellow students, since they do not yet know you, may try to steal your things.

I think he gave me some more obvious advice on Behavior, but I really don't remember everything. At any rate, it was an effort not to roll my eyes.
I'm not THAT stupid; seriously, stop giving me all this horribly obvious advice.
All in all, I feel seriously underestimated by everyone.

I was finally allowed to go home. Thank you, God.
End.

Extra Notes:
I have 17 school books, 20 notebooks and 19 subjects. How does this work? Let me explain.
19 subjects-2 of them do not require books (thus 17 school books). Those two subjects are Physical Education (no surprise) and I think something called How To Be a Good Mongolian Citizen or just simply Citizenship. I have 20 notebooks-18 subjects (not counting Physical Education), that gives us 2 left. But 2 of my subjects, Math and Physics require 2 notebooks each, so we have that covered.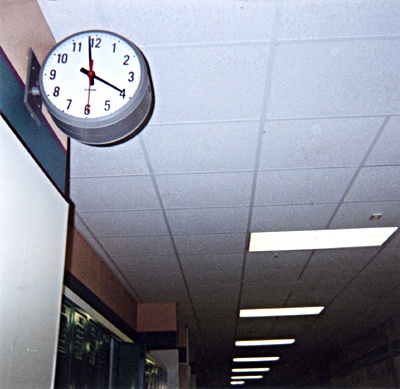 © Blake B., Highland Village, TX