Candle
April 9, 2019
My head flickers, a new fire igniting.
My thin, waxy figure stays firmly planted in a silver holder.
I look around; the cluttered study is filled with books.
This is the time to enjoy before I am mindlessly snuffed out.

I stare at my owner, a middle-aged balding man.
His hand flows seamlessly across the page, and
Scribbles of black ink appear, which remain foreign to me.
He looks at me once and I dance back and forth, hoping he won't notice my fascination.

I smile to myself, realizing I am this man's source of comfort.
I am the only thing lighting up this dark, dusty room.
Without me, he would just be a shape in the dark,
A man sitting and writing blindly.

I can feel my body sagging, the weight of the hot wax pulling me down.
Time passes and I wonder when I will cease to exist, when a new candle will replace me.
After all, as I grow older my body gets shorter.
I dismiss these depressing thoughts, enjoying my purpose in this stranger's life.
He moves towards me, and I come to peace with what is happening.
Ah, what a beautiful life this was, I think, as I die out into a lingering scent.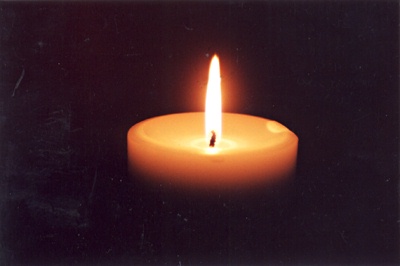 © Ashley D., Philadelphia, PA