Enemy Lines
April 6, 2010
The only way to get home,
To save himself,
Was to become alone,
Be beside himself,
What could he do?
Surrounded by guns,
All he could do was shoot,
while his best friend runs,
he had to kill his partner,
just to stay alive,
as daylight ends, night occurs,
a life is derived,
he took the iron bar,
held it up high,
and it hit him like a car,
as a military soldier's soul arise,
he was under enemy capture,
captain and his private,
he was forced to kill, enrapture,
the only way to save it,
he had to kill, just to get home,
to his kids, his wife,
but the private had a home,
he had a baby, a pregnant wife,
but the private was going to die anyway,
so why not save one life?
So he waited, alay,
for someone to save his life,
and when they did,
he couln't talk, not even to his wife,
he was scared of everything, even his kid,
he felt so bad for the private's wife,
he killed his best friend,
so who ever said best friends were till the end?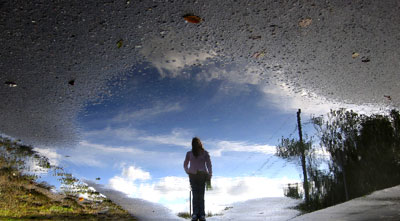 © Daniel H., Oak Bluffs, MA