Do You Remember?
MAG
June was you by the pool. The day we first met, remember? I thought you were just one of those brawny lifeguard guys – you know the type: pretend to be all sweet, save the little kid from drowning, then go out and get totally hammered at night. I paid no ­attention to you, thought you were one of the heartbreakers, the ones I couldn't care less about. But you had that smile with the dimples, and you came over just to offer me a watermelon Jolly Rancher. My favorite flavor. How did you know? That's when I knew you were different.

July. August. After work we'd spread ourselves out on the field and drown in the sun, laugh at all those stupid jokes that aren't even funny anymore. Why did we laugh so much back then?

Your studio, an explosion of color with your paintings enclosing you like a corral. Sometimes they made me jealous, when you saw them more than you saw me, but I loved them all the same. I loved that one of the beautiful girl with the long black hair, the one who looked so sad, but you wouldn't say who she was. You'd never say. I'll never know. So many secrets locked up in that little box of yours. You were fun, but you were serious.

"I want to be painted like that," I said, because the painting was so beautiful. And you said, "Okay. Let's do it."

I still have that painting of me, by the way. You can only see half my face in it. "Why is that?" I asked. You shrugged. Another secret.

September. October. I love October. And you loved it too. When the leaves dance on the sidewalk and twirl through the air, when the world bleeds orange and red, and the air is like your stepmom's apple crisp. We breathed it in together. We stood on the hill and closed our eyes, stretched our arms and spun around like five-year-olds, forgetting there was a world below. We listened to the wind whisper our names.

October was when we took the train downtown. It was fun that day, I don't remember why. We skipped school (that was when school didn't matter) and we rode downtown with your easels and paper and chalk and pencils, and we were going to draw fall. We drew the houses and trees, little kids flying a kite in the park, a mother duck and her ducklings wading through a river, a man asleep on a park bench, a maple leaf crisper than your stepmom's apple crisp.

And you said, "Fall is a bit sad."

And I asked why, and you said, "I dunno. It means summer's over. It's like ­losing something you can't have back, like love."

And I said, "But summer always comes back, doesn't it?" And you said maybe.

We raked up a pile of leaves with a stick. We made this really big pile, laughing and running around it, losing half the leaves 'cause we'd stuff them in each other's hair and shirts. We held hands, almost afraid to jump, like little kids taking their first dive into the deep end. One, two, three, go! And we sank into the big orange bed together.

I remember your easel that I carved my initials into. I remember the dimples on your cheeks, the eyes that were always on me. Your worn-out copy of The Great Gatsby that you read to me sometimes, and your plaid red scarf. I have that scarf, by the way. I wish it still smelled like you.

It's October again, and the leaves are still dancing and the geese are still singing their good-bye song, and the bullfrog doesn't sing because the pond's almost frozen over. I wore your scarf yesterday as I rode the train downtown. I crossed the street to the park where we made the bed of leaves, and I tried to remember exactly where it was. And fall feels a little sad this year, like losing love.

I'm waiting to see if the summer comes back.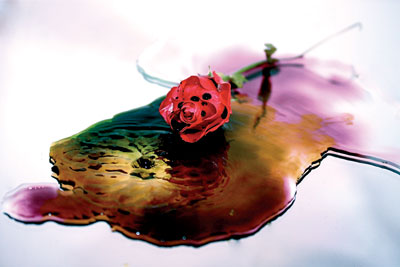 © Anonymous