My Silver Lining Part 5
December 11, 2009
I silently walked through the halls of the hospital.

As I reached the curb of the street, I decided against signaling for a cab. I needed time to myself, and what better way than a walk?

I walked down Broadway, past all the couples who were holding hands casually.

I even walked past my apartment building.

I soon found myself stopped at a pond in one of the parks.

I sat down on one of the benches facing the pond and just examined.

I watched the ducks swim gracefully on their stomachs through the still water, causing the surface to ripple, not a care in the world.

The wind suddenly began to pick up. I heard a barely audible squeak.

I looked over. By the pond stood a beautifully carved whirligig.

It caught my attention, so I had to get a closer look at it.

The main part of it was of an angel dressed in a light pink robe, and short, curly brownish-red hair. Her wings were spread out and she was floating on clouds.

Two stars surrounded her, along with a purple heart.

Near the top was a bright sun.

I noticed the angel's halo was painted the brightest shade of yellow. It was as if it was almost glowing.

I couldn't help but feel complete comfort. I suddenly felt like I was going to get through this sudden tragedy.

I pulled out my cell phone and snapped a picture. I set it as my main screen, and then decided I needed to get home.

As I walked home, I pulled out the phone to look at the picture again.

Now looking at it for a second time, I had a feeling that someone was with me.

For some reason, it was like I knew he would wipe away my tears when I was down. I knew he would embrace me once again. And I knew he would catch me when I fall.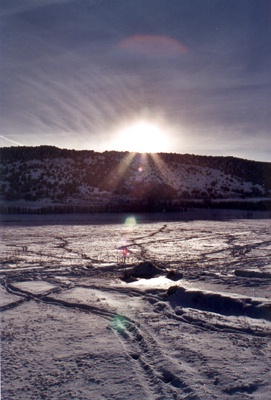 © Brandon T., Manila, UT