The Most Stupid Thing About Love
May 18, 2010
I sat at the dinner table nervously awaiting the events to occur. I picked up a spoon and began tapping it against the table. The clicking of the spoon slammed against the wood in a rhythmic pattern, causing my nerves to calm down only a little.

The waitress dropped by and asked in a polite voice, "Would you like another glass of water, sir?"

Looking down at my third glass of water, I politely declined. I was too nervous for my own good. The waitress nodded and returned to the kitchen. I pulled the ring out of my pocket and spun it as if it were a top on the table. When I slapped it down against the table, I rose my head and met eyes with her. Those dark brown eyes that kept me gazing at her mysterious façade. She was the same beautiful girl I knew four years ago.

She twiddled her fingers then trailed gracefully to my table. I rose to pull the seat for her, hoping she'd notice I've changed since I was seventeen. I was naïve, and I left her for the wrong reasons. Instead of taking a seat immediately, she pulled me in for an inviting embrace, which gave me a chance to detect anything new about her. Fortunately, her vanilla scent stayed with her. Her hair was still soft as ever. Her body frame has grown, however, in a good way. She used to be so petite and fragile—not that I've held it against her. She was curvy in all the right places. She was beautiful then and still was now.

"You haven't changed a bit, Liam," she greeted me.

"Neither have you, Laurie," I told her, hoping she hinted the positivity in the message.

There was silence as she sat there in front of me, studying me. What was she thinking? The curiosity killed me, and I wished the conversation would just start. I cleared my throat and added, "So, um, do you want to order drinks?"

"I'm okay," she replied. "I knew you wanted to talk, so maybe we should get to that…" she trailed off.

I didn't know where to begin. "I'm sorry," I blurted.

"That was four years ago, Liam," she shrugged. "I let it go already. You cheated on me with Maryanne. I understand that it was just a mistake. You two had crushes on each other since middle school, and temptation got to you guys. It's okay."

In fact, her voice was so calm about it. She wasn't upset or angry. She almost had no emotion in her voice. I could always count on Laurie to keep me on my toes guessing.

"I don't understand, Laurie," I admitted. "I was so…stupid."

"Yeah," she agreed. "You were, but I moved on. Have you moved on?" I didn't know if her question referred to the cheating or the fact that I still loved her.

"I mean, yeah," I lied. "I still haven't moved on from you, though. I know you have. It's only right. You're twenty-one now; you deserve better than me. I don't know. I mean, have you moved on?"

"What have you heard since we broke up? Tell me everything," she ordered.

"Well, for one, I heard you and Carlos tied the knot a few months ago," I told her. It should've been me she tied the knot with, I mused. If only I wasn't so stupid at the time.

"That's right," she smiled. Her smile wasn't one of joy, but more of a smile to cover up something else. I read through it, like I always read through Laurie. "Carlos makes me happy."

"Carlos," I repeated. "Is this the Carlos we went to high school with?"

Laurie nodded.

"Carlos?" I remembered. "Don't tell me this is the Carlos from your math class."

She nodded. "Why?"

"Carlos…he's not right for you," I insisted. "I know he's not right for you."

She cocked an eyebrow at me and spoke, "How would you know, Liam? You left me for four years. You don't know who's right or wrong for me. The only person you should know that is wrong for me is—"

"Me," I interrupted.

"One question," Laurie demanded. "Why did you tell me you loved me?"

"Because I did love you," I shrugged.

"Then why did you do what you did with Maryanne?"

"I was stupid, Laurie," I countered. "How many times do I have—"

"That was your excuse four years ago, and it still is today. It's definitely time you get a new writer." She shook her head. "You were stupid? I was stupid to believe that you loved me."

"And you're stupid to come here and deny that you still don't have feelings for me," I argued.

"What makes you think I have feelings for you?" She stood on her feet and crossed her arms across her chest.

"I can tell, because the way you're looking at me right now," I pointed out.

"The way I'm looking at you?" she sneered.

"You want to kiss me right about now, don't you?"

"No, I don't want to kiss you," she croaked. She swallowed a lump in her throat and choked back on her tears. "But being next to you makes me sort of need it."

She grabbed her wallet and stormed out of the restaurant. The clicking of her heels sent me in a maniac state. I chased after her and pulled on her arm, forcing her to face me.
"What?" she hissed.
"Kiss me now," I demanded.
"Why should I? I'd hate to be a cheater like you," she whined, referring to Carlos—a man she has committed her life to.
"Because I need a kiss from you, too," I replied.
She bit her lip and devoured into my lips. She opened her mouth and enticed my tongue with hers, letting me taste that taste from years ago. I forcefully pushed my tongue back and forth, knowing I've wanted this for four years, but I messed everything up.
Once she pulled back, a tear slipped to her cheek. "I can't believe I did that," she whispered.
"We all have needs, Laurie," I told her.
"I've come to a conclusion, Liam."
"Yeah?"
"I need you," she answered.
So if love gives us second chances, why am I sitting here alone at the age of sixty-two looking at nothing but two photographs of us?
I'll tell you the answer. A teenager was texting while driving. This teenager crashed into the love of my life, and sent my whole world awry. We might move on from the past or we might not, but one thing is for sure: a second chance is never guaranteed.
When I turn the photograph over, I see Laurie's handwriting. A tear flows down my wrinkled skin as I read: Don't ever move on without me, Liam. And I'll never move on without you again. Moving on without you was one of the most stupid things I've ever done. Don't be stupid. I love you honey, Laurie.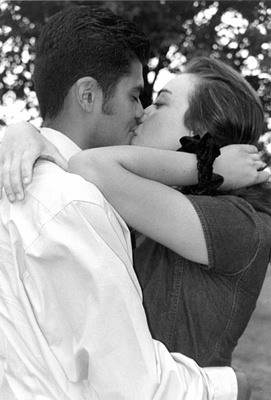 © Yaniris M., Boston, MA