Love it without you.
August 8, 2010
I remember this one moment… In the light of the rising sun, Evan and I sat on the roof sharing headphones to his I-Pod. We were sitting on the roof of my parent's house. At twenty were hopeful, unprepared, and convicted when it came to how we wanted to live. We wanted to live for and with each other. Evan changed the song and smiled at me with his soft, sweet smile. I smiled right back. In that split second when our eyes met it was a feeling as though everything was alright in the world. Everything was alright for that split second.

Our friendship was real and wonderful and wild. He put his arm around me when we walked downtown through the city. I wrote him letters and songs and he painted the world with words describing how beautiful I was. I was reluctant to believe him but he was everything to me.

Two years later we made took our friendship to the next level and merged into a relationship. "Ava, I don't know if a relationship is the best thing. I'm leaving for Australia in a few weeks for a volunteer program and…" Evan was a do-gooder. He was into community service for the point of it, helping the neighbors, eating organically, and the whole meaning of life. So when he told me that he was leaving for Australia to do some environmental work, I wasn't surprised. Of course I did wonder why he had to go so far away for that.

Evan held my hand with one hand and brushed my hair back with the other hand. I closed my eyes. "I don't know if it's right to be in a relationship with you. If I was going to be with anyone, it would be you." I didn't know what to say so I didn't say anything. Behind my closed eyes I saw a collection of memories flash by like Polaroid's.

I remember how through all the hard times in his life – which mainly happened in high school – I was there for him when he didn't have anyone. I listened to him. I encouraged him. I hugged him. I was falling in love with him. We talked all night. He told me his fears and I consoled him. He told me about his ex girlfriend he could not get over and I told him I was really sorry. Evan appreciated all of what I did. Neither of us really understood why I did what I did but we eventually realized we were in love with each other. Evan had two relationships before he realized he wanted to be with me and I went on a west coast trip not too long ago to take a writing course on the Pacific Ocean. I came back tan and thin. He was depressed about life and happy to see me. I wrapped my arms around him and didn't let go for a very long time.

"If I go to Australia for a while and don't know what I want to do with my life…is that fair to you? What if you don't fit into my life?" Evan asked me these questions on the night we decided we would be together.

Our relationship lasted a few months. He started going on dates with his ex girlfriend who was back in town. It was innocent to him and he didn't think anything of it. He was so happy to see her. His friends wanted me to know about it so Evan let me know. Evan took her to the movies, to dinner, to a party. He was frustrated when he told me because he didn't think it was necessary.

"That's okay," I told him. "I'm glad that you're getting to spend time with Kate. I know how much you love her." He didn't catch the heaviness in my voice and he didn't notice that my face was pink and my eyes were puffy from crying when he saw me a month later. He handed me a single rose as we stood on my front step. Kate was waiting for him in his convertible. I couldn't see her very well though because the sun created a glare on the windows.

"Thanks for the rose Evan." I didn't smile.

"You deserve it." He smiled big. "I'll call you sometime."

I crumbled into a thousand pieces as I sat there on the step as he pulled away. He waved as he did so. I didn't move. Later that night I got a text message from him asking if I was okay. "You seemed upset today," it read. I didn't know if I should have felt angry or hurt so I didn't feel anything.

We broke up not too long after. He kissed me the night we broke up. We were at the lake and it was in the beginning of summer. I had my jeans rolled up around my ankles and he had his shirt off. We were holding hands even though I didn't feel anything. He told me about his ideas for his future and about the concerts he was going to. I nodded, watching the water rock against the shore line.

"I'm so glad you're part of my life Ava." His voice was weak.

"So what have you been doing since I last saw you? It's been a month." He said he would call the day he took off with Kate, leaving me with a rose. I left the rose on the porch and it got rained on and dried out and died and I didn't want to look at it.

"I've been encouraging Kate and helping her problem solve. She's had such a difficult year."

"That's good that you're helping her."

"I knew you would feel that way," he echoed. Our voices were distant. "Can I be honest with you Ava?" Here it goes, I thought at the time, the truth… "I don't know if our relationship is the right thing." I didn't respond. "But I really want to kiss you right now." He shrugged, eclipsed in the setting sun.

I wanted to cry. We stopped pacing the beach and faced each other. I stared into his eyes and couldn't understand why I loved him but I did. I did. Maybe that's why, even though I was breaking, I said yes. "Yes you can Evan."

He did. He put his hand on the back of neck and we leaned in and he kissed me. It was the best kiss I have ever had. When we pulled away my eyes were closed and when I opened them, I starting tearing up. "I can't do this anymore Evan."

It's been awhile since we talked. And I mean, since we really talked. We've texted back and forth sporadically. We never text about anything too serious though. It's usually about the weather or his road trips with friends, or the froyo I was having at the park by myself. He never recognized the way I felt. I felt empty, confused, let down. I felt not quite ready to give up on us. But I wanted to.

We did however, email last week. He updated me on where his life has been going and where his heart has been leading him. He sounded happy and friendly in the letter. I responded and told him I prayed for him and thought about him and wondered about him and he responded to that with "likewise." And I never responded to that.

Evan started dating Emily not too long after that. I didn't look at his pictures that he uploaded on the networking sites. I didn't read his blogs. I didn't call him. I didn't care… Or so I told myself. It got easier with time and I accepted it and moved on.

It was good though because I was so free to get to know my sister who I was never really close with. We watched movies together and made ice cream sundaes together. I cried a lot. For awhile I knew it was over Evan but eventually I wondered why I was crying so much.

I knew that at a certain point in our relationship, when we were still dating, I was gone.

I saw Evan just last week. He was reading the newspaper outside the coffee shop in the city. I came out of the coffee shop drinking a cappuccino. I gazed up at the brilliant blue skies. It was early morning and I was feeling happy and ambitious. I had my whole life ahead of me! I knew that without love in my life, it was totally pointless. So I made it my point to express love outwardly everyday towards my family, my friends, and myself. I sipped lots of tea and did yoga and continued painting. I was signing up for online college courses and my job was going well. My family and I were not that close and I really wanted comfort and love and affection and down time which never seemed to come. But I had my church family and all the things that God gave me and was giving me.

I decided not to give up on those things – those things were eternal. Even though a lot of things had gone wrong in my life, everything I needed was in Him. Sometimes that truth kind of hurt, but I knew it was right. I was learning that sometimes you're biological family is not there for you but God gives you His family which is your family…

I was always a girl who needed things to look at – I needed to see visible progress and hope for the future. But most of the time I couldn't see anything. I knew I had both in God but I couldn't see that. But I smiled to myself and prayed and loved and listened and found hope in some many small beautiful things.

When I came out of the coffee shop, Evan looked up at me. I noticed him after he stared at me. Neither of us said anything. I wanted to keep walking but I didn't. I looked at him. He didn't have anything I wanted and he wasn't anything I felt anything for.

"Hi Ava, you look great. How've you been?"

Somehow a tear found its way into the corner of my eye. I didn't want to tell him anything. "I've been really great."

"What have you been up to?" He stuck his newspaper in the crook of his arm and smiled for good measure.

"Oh I've been pretty busy," I answered dismissively.

"Look, Ava, I didn't mean for our relationship to break and our friendship to deteriorate to nothing. You were always a really important part of my life and I still care about you. Maybe we can meet somewhere sometime and just talk?"

"Talk about what Evan?"

"I'm not sure, but something. I would like to get back to being good friends again."

You mean the kind of friends where I was there for you from day one but in the end you didn't even recognize me? But I didn't care.

"Yeah sure, we'll see," I answered, knowing full well I would never hear from him again about anything. There were bits and pieces inside of me that felt like pain but it made me stronger because being stronger was really the only direction I could go.

He was beautiful and I could remember why I loved him and see all the things I loved about him back when. But I didn't feel it. I couldn't feel it. I remembered it, but I didn't feel anything like I felt back when. It was liberating.

He apologized for hurting me all that time ago and said he only wanted to do was make me happy and for him to be happy to. He said what he said and I thanked him. "Thanks Evan, that's really sweet." I paused, "I'll see you around sometime okay?"

I continued on my way without hearing his reply. I walked down the street, passing under tree branches and through the sunlight. I shook it off and smiled to myself, thinking, so that's how that goes down…

I didn't look at my phone and I didn't wait for him to call and I didn't wonder where he was or what he felt. I didn't care to have flashbacks or photographs. I didn't want to understand why or how.

I got home and fed my rabbits out back by the creek. I waded in the water a bit then headed up the dirt driveway. I proceeded up the porch and headed inside.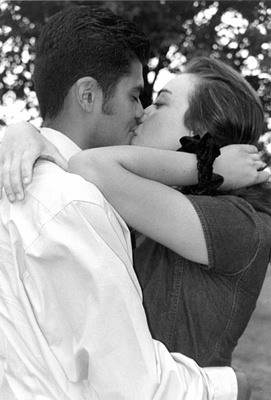 © Yaniris M., Boston, MA