Faceless Friend
March 30, 2012
For what felt like my whole life, everyone always said, "That's the man you're gonna marry." My whole life. Because that's how close we were. And I thought so too. Two seconds glance at his face... And it was like I could see my whole life rolled out like a silver carpet, not red, silver with originality, stretching on forever and ever. I wish I could see that picture now. When you're that close to someone... I'll let the story speak for itself.

It was the fall of the tenth grade. New year, new face, new teachers to avoid. I remember slamming my locker door shut in a fury. It bounced back with a terrible clattering bang, and only my insight saved me. I stepped back, quickly, before what would have been a devastating injury could wreck my left eye. That's when I saw him for the first time in my life. An exaggeratedly long two second glimpse at the face. I felt my heart flutter up into my throat, forcing its way painfully up through me as it expanded with not to be questioned love. My anger melted away like water when it hits fire. And that's what it was like. I was fire, quick to fury, and he was like water, only when we hit each other, we grew stronger, immune to everything. There wasn't one of us that disappeared like science says we should. And that was beauty in itself. I remember, he came up to me, and he said, "You would pretty even without that eye," and it makes me laugh so hard just thinking of it, even now. That moment was beautiful. I felt like walking on... On something! Clouds, water, you name it, and I would sure as heck walk on it.
From that very moment on, we were moonstruck lovers. I looked into his eyes and it made me physically shiver. There was just such a deep reassurance resonating from inside of me that this was him, this was love on two feet of its own. Not infatuation or overly saturated romantic feelings, but real down to earth and at the same time infinitely far away love. At my age, few could say that. I could... I could...
Once upon a time...
But once upon a time was the rest of high school. I swear, I never had one single argument with him. He was so considerate and magnanimous... Even if I had a twenty minute screaming fit over something, where I may or may not have been entirely kind to him, he would just kiss the bridge of my nose and say, "I know." That's what true blue understanding is.
Even after high school, you could see us together, still genuinely in love with each other, still the little tenth graders in the school hallway. Two little fish in a very large sea. Looking back, I feel like high school was us in a gold fish bowl sunk under the ocean; everyone and everything else was out there, but we were in our own secluded bubble.
And maybe, maybe that's why the currents began to carry us away. Don't get me wrong, we were still in love, very much so. But soon, it began to feel Sisyphean, like loving each other so hard wasn't going to end, like there needed to be a break. And so away we went with the currents.

I guess the way I've spun this story makes him look like a faceless friend. I like that, someone you love but who just doesn't have a place with you. So now, I sit with two knitting needles between my knees, acting like the stereotypical grandma, while staring at the picture of he and I. The glass was accidentally shattered by my youngest grandson, but it seemed kind of fitting. The picture, the love, was still there, but the glass was shattered, so that love, the picture, couldn't be seen clearly again. But for all the world, it does exist, the love, it's just sunk a little deeper under the waves, down in the goldfish bowl at the bottom of the sea. But for all the world, it's still there.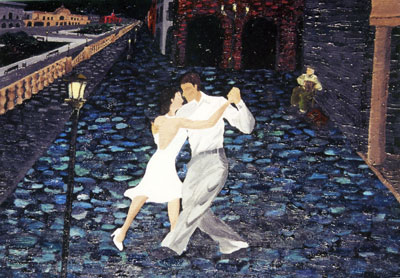 © Elizabeth M., Kannapolis, NC